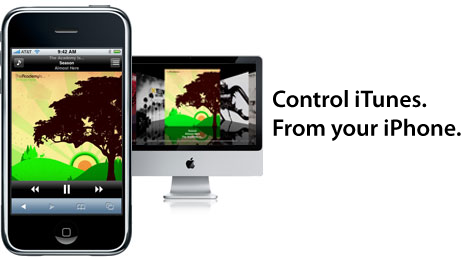 Control your music anywhere
Signal turns your iPhone, iPod touch, or Pocket PC into an advanced wireless remote control for iTunes on your Mac or iTunes, Winamp, or Windows Media Player on your PC. Control playback, browse or search your media library, and edit playlists from anywhere in the house - all from the palm of your hand.
The missing link to your digital jukebox
Stop going back to your computer every time you want to pause the music or change the song. Signal gives you the ability to control your music from wherever you can hear your music, so you can change songs from the comfort of your favorite chair or rock your next party from the deck, patio, or any room in the house.
Your iPhone as the ultimate remote
Signal offers an interface specifically designed for the iPhone and iPod touch, and takes full advantage of the device's capabilities to provide a two-way, live updating view of your media player.
Complete control of your media player
With Signal you can:
Play, pause, and stop your music
Move between songs in the playlist
Select AirPlay speakers
Adjust the volume
Rate songs
See the current album art
Browse and search your media library
Add songs to the queue
Remove songs from the queue
All from a fun and easy-to-use handheld interface.
The perfect Airport Express companion
Signal really shines when you connect your computer to your stereo. Streaming solutions like the Airport Express allow you to wirelessly send music to your stereo, and Signal gives you the freedom of wireless control to go with it. Put them together and you get a simple solution to play and control your music through the whole house.
For Mac and PC
Signal supports iTunes on your Mac or iTunes, Winamp, or Windows Media Player on your PC. You can use an iPhone, iPod touch, or a Windows Mobile Pocket PC as your remote. Setup is simple, just install and go.