Signal 1.1 - Hello, AirTunes
February 24, 2008

You've asked for it, and it's here! Signal now gives you complete control of AirTunes speaker selection through iTunes. You can toggle multiple speakers on and off or easily redirect all audio to a single speaker, right from your iPhone, iPod touch, or Pocket PC. Here's how it works:
If you tap on the album art image to display the additional controls, you'll notice a new icon for multiple speakers. Tapping on this will take you to the speaker selection screen, and here you'll see the list of all AirTunes speakers in your network as well as an entry for your computer and a switch to toggle between single and multiple speaker modes.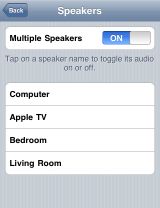 When set to single speaker mode tapping on a speaker name will redirect all audio output to that speaker, just like selecting it from the speakers drop-down within iTunes. This allows you to quickly send audio to a single room or back to your computer.
When set to multiple speaker mode tapping on a speaker name will toggle that speaker on or off, just like using the "Remote Speakers" window in iTunes. Signal will automatically remember the last speaker mode setting used, so if you're always operating in multiple speaker mode you can just set the option once and never worry about it again.
The first time you use the speaker selection option on a Mac you may see a message asking you to turn on "access for assistive devices" on your Mac. This is a Universal Access feature that enables UI scripting, and it's how Signal works around the fact that iTunes still does not include a proper API for AirTunes control. Signal will open up the Universal Access system preference pane for you, so all you need to do is check the box and you're set.
But wait, there's more!
It's been a couple of months since the last update, and the time hasn't been spent idly. In addition to the new speaker controls, 1.1 also includes some other great new features:
Alphabetic Media Library Jump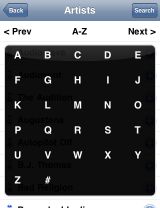 To speed media library navigation when browsing, an A-Z button is now included at the top and bottom of every media library group that spans more than a single page. Tapping this will bring up an alphabet overlay, allowing you to tap on a letter and have the media library scroll directly to the first entry starting with that letter. Coupled with Signal's existing speedy search capability finding just what you're looking for should be easy!
Landscape Support
Mobile Safari loves its landscape mode, and while for most web viewing it's a great feature, for web applications it can sometimes get in the way. Since there's no way to turn it off, why not use it! Signal will now properly re-arrange itself when in landscape mode, allowing you to utilize all controls and giving you more space to see media library artist and album names.
Back Button Support
Safari's back button can now be used from anywhere within the Signal interface to take you back to the Now Playing screen with one tap. If you're in the middle of browsing for something in particular but you want to skip a song or make a quick change to the volume, just tap the back button. When you're done, tapping Safari's forward button will take you right back to where you were.
Improved Podcast Organization
Podcasts are now a top-level category in the media library, organized by show rather than artist and sorted by date so you can easily find the latest episodes of your favorite shows.
...And the Details
New icon!
WebClip icon
Previous now acts as backtrack in iTunes
Bonjour advertisement for the HTTP interface
The usual assortment of fixes and minor changes covered in the release notes.
This is a release that I've been looking forward to for some time now, and I'm very excited to see it get into your hands. It's available right now on the downloads page, I hope you enjoy it!